Any hot tub can offer a soothing experience as warm water seeps into your body, easing weary muscles and releasing tension.
However, they don't all offer an equal experience.
The hot tub features making up your spa hold significant power over how you interact and use your spa.
While many of these features come in standard forms on many spas, premium models include far more advanced technology, bringing the power of these features even further.
What's more, various features are exclusive to certain brands, providing a unique experience unlike any other.
If you're in the market for a hot tub and want to know what features you might want to be looking for, keep reading!
Below, you'll find a comprehensive list of eleven hot tub features that can elevate how you use and interact with your spa.
Let's begin!
Hot Tub Features That Transform Your Experience
When we talk about hot tub features, the first thing that often comes to mind is waterfalls and bright lights.
While these are certainly highly coveted features, there are various others that often go overlooked and can have a significant impact on your experience.
The features in your hot tub can serve such distinctly different purposes.
Some features have a heavy focus on amplifying the relaxation you find in the water, while others focus on supporting your hot tub maintenance routine.
Read on to discover eleven hot tub features from various categories, each one influencing your hot tub ownership experience.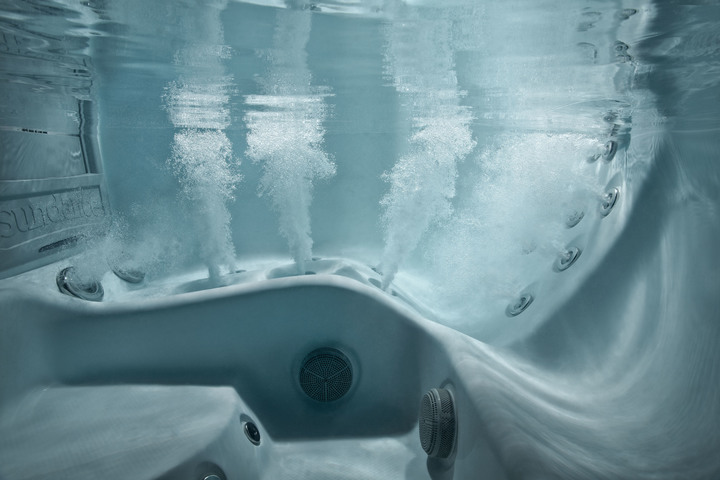 Hot Tub Features To Enhance Your Therapeutic Benefits
One of the most well-known aspects of a hot tub is its powerful hydrotherapy benefits.
Just the simple act of relaxing in warm water can support various aspects of your health and well-being, but when paired with some additional features, these benefits can be put into overdrive.
Seating Style
This is easily one of the first factors many people consider when they start exploring hot tubs.
Ultimately it comes down to one thing; to lounge or not to lounge?
Many people can't imagine investing in a hot tub without having the option to sprawl out as they enjoy a shoulder-to-toe massage.
However, lounge seating does more than simply offer a full-body massage; it also relieves the most weight on your body while you're in the water.
This produces a sense of weightlessness, giving your joints a much-needed break as they rest and recover.
Alternatively, if you want to maximize the space in your spa, an open seating design free from a lounger may be something to consider.
This design usually allows for plenty of open space in the centre, perfect for anyone with kids or those who enjoy bringing their loved ones together.
Specialty Hydrotherapy Jets
One of the most relaxing aspects of a hot tub is the jets lining the seats.
There's nothing quite like settling into the crystal-clear water of your spa after a long day and enjoying a powerful hydromassage.
But did you know that hot tub jets come in various styles and designs, each with specific functionality in mind?
It's true.
Not every jet is designed the same. Some have swivel designs, others can have their pressure adjusted with a simple twist, while some aim to provide a gentler flow for delicate muscles.
The jets that are included in your hot tub will influence the type of massage you can experience.
For example, if you struggle with carpal tunnel, some hot tubs have jets specifically designed to treat the wrists.
Aromatherapy Systems
This is one of those features that is not widely included in hot tubs, but some, like the Marin®,️ have built-in technology to easily add aromatherapy to your spa sessions.
While there are certainly hot tub-safe aromatherapy options on the market, many hot tubs don't include built-in technology to support their use.
This technology offers peace of mind and ease of use when adding aromatherapy to your system, reducing the risk of damage to your spa while maximizing your therapeutic experience.
LED Lighting
Nothing makes your hot tub more appealing after the sun sets than flicking on the stunning LED underwater lighting.
Most base models include an LED in one shade, allowing you to light up your water and improve accessibility.
However, premium models often include more robust LEDs, allowing for various colour options to truly customize your time in the water.
Not only does this make your hot tub particularly captivating at night, but it also adds to the therapeutic benefits you can experience through chromotherapy; the use of light to influence emotions!
Integrated Stereo Systems
Are you someone who goes through every day with music in the background? Why should that stop once you step into the calming depths of your spa?
Integrated stereo systems allow you to easily listen to your favourite playlist while you soak away your stress, without the need for a secondary speaker propped up outside the spa!
Music can have a profound impact on your mental state, from improving your mood to combating stress and anxiety.
With an integrated stereo, you can effortlessly surround yourself with relaxing instrumentals or uplifting party mixes.
The choice is yours!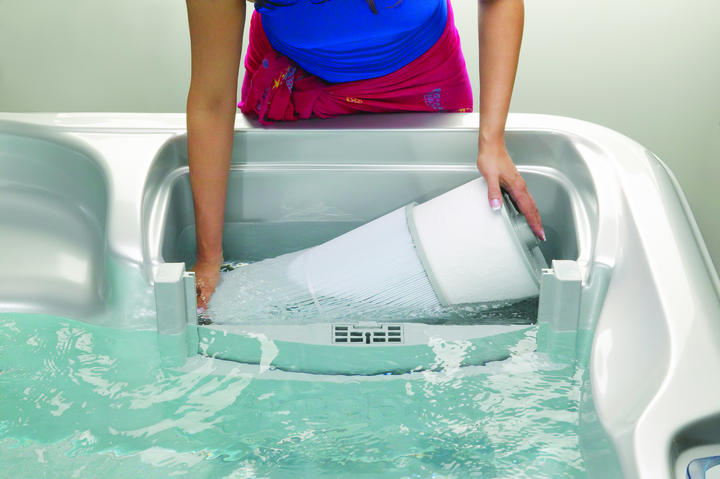 Hot Tub Features to Improve Energy Efficiency
Another sub-set of hot tub features aims to keep your system running as efficiently as possible, minimizing the strain on your system while keeping energy costs low!
Over the years, these features have seen ample change, enhancing their basic function and making them highly advanced for a smooth running system.
Full Foam Insulation
The insulation of your hot tub plays a significant role in how well it retains heat.
This is especially important for anyone living where temperatures plummet during the winter months.
Full foam insulation is one of the best ways to keep your heat loss to a minimum. Due to its density and snug fit between your shell, the system, and the cabinet, your water will maintain its toasty temperatures with ease all year long.
Smart Heaters
While every hot tub is outfitted with a heater, some are of higher quality than others.
With the advancement in technology, heaters have become more advanced than ever. Modern designs improve how well it heats your water while combating the corrosion they often face from being surrounded by water.
For example, the Efficient Sentry Smart™️ Heater from Sundance®️ Spas boasts a titanium coil that increases thermal efficiency while reducing costs and prohibits corrosion that often leads to costly repairs.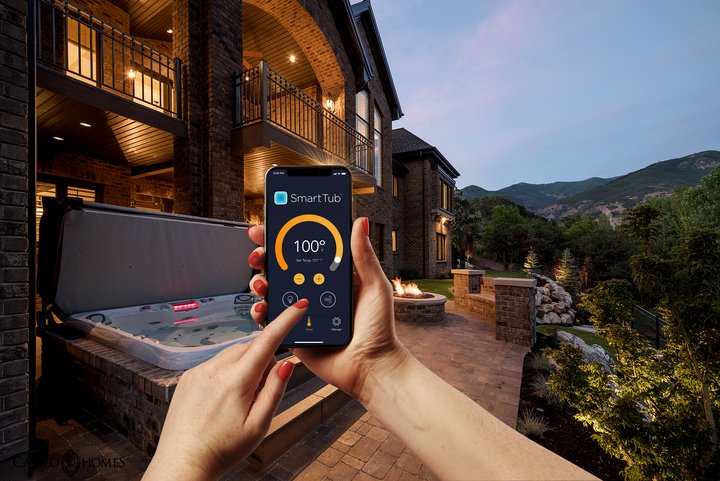 Hot Tub Features to Simplify Maintenance
The final category of hot tub features on our list are those that help support the overall maintenance needs of your spa.
Caring for your hot tub is crucial in keeping it running smoothly and ensuring you get many years of enjoyment out of it.
While this is a simple fact that should never be overlooked, with some advanced technology, it can become easier to maintain your spa day to day.
User-Friendly Control Panel
The control panel does more than simply allow you to manage your hot tub's basic functions. It's also your first point of communication with your entire system.
If a control panel is overly complex and confusing, it can quickly lead to frustration as you try to care for your spa.
A user-friendly panel allows you to easily access the information you need and manage crucial elements of your spa, such as adjusting when your pump runs or reviewing error codes.
Tool-Free Panel Access
When it comes time to drain and clean your spa or inspect the various parts of your system, access shouldn't be a challenge and should be as effortless as possible.
One of the ways Sundance®️ Spas has transformed the maintenance routine for their hot tubs is by designing an easy-access control panel.
Instead of pulling out tools to unscrew a panel of your cabinet, now you can simply twist a knob and open the cabinet in seconds!
UV-Sanitation Systems
Water care is a hot topic, and it's a vital part of ensuring your hot tub is safe to enjoy.
Many people are looking for ways to reduce the amount of water treatment products they need to add to their spas, and UV-C light has done just that!
By harnessing the power of light, Sundance®️ Spas has made it possible to reduce the amount of chemicals needed to keep your water clean and clear without sacrificing its quality.
Interestingly, this is the same technology used in water treatment plants and hospitals, making it a highly advanced addition to any hot tub!
The SmartTub™️ System
Last on our list, is easily one of the most coveted hot tub features in recent years; control of your spa from afar!
With the SmartTub™️ System, you can see how well your spa is working, and control vital functions right from your phone through an app.
From changing the temperature to maximizing your spa's efficiency, this system gives you the ultimate way to interact with your hot tub.
Better yet, by using cellular technology, you'll no longer need to be within range of wifi to control your spa. You'll have access from anywhere you have data, even if you're away on vacation!
Watch the short video below to learn more about the SmartTub™️ System.
Hot Tubs for Sale in Calgary
Many Sundance®️ Spas models include a mix of the above hot tub features, ensuring every one of their spas provides a luxury experience that goes beyond the water.
If you're looking for a premium spa to enhance your space, SunSpa in Calgary is the place to be!
Our team of experts is happy to help you find the perfect hot tub for your lifestyle, transforming your backyard into your own personal paradise.
Contact us, or visit our showroom today to explore all our backyard leisure products today!