How Sundance Delivers Cleaner Spa Water
Spa Water Treatment: The MicroClean® filtration system joined with CLEARRAY™ featured on 880™ and 780™ Series spas surpasses all other spa water treatment systems for ensuring pure, clear water with low maintenance and reduced chemical usage. The system does this by combining efficient, effective filtering, water purification, water circulation, and water skimming processes.
Both the MicroClean Plus filter in 880 Series spas and the MicroClean filter in 780 Series spas employ technology similar to that is used in home drinking water filters.
Dual stage filtrations robust and efficient in water filtration
Factory Installed CLEARRAY™ treats 99.9% of waterborne pathogens
Optional SunPurity™ mineral spa purifier further reduces the need for chemical sanitizers (not available in all countries)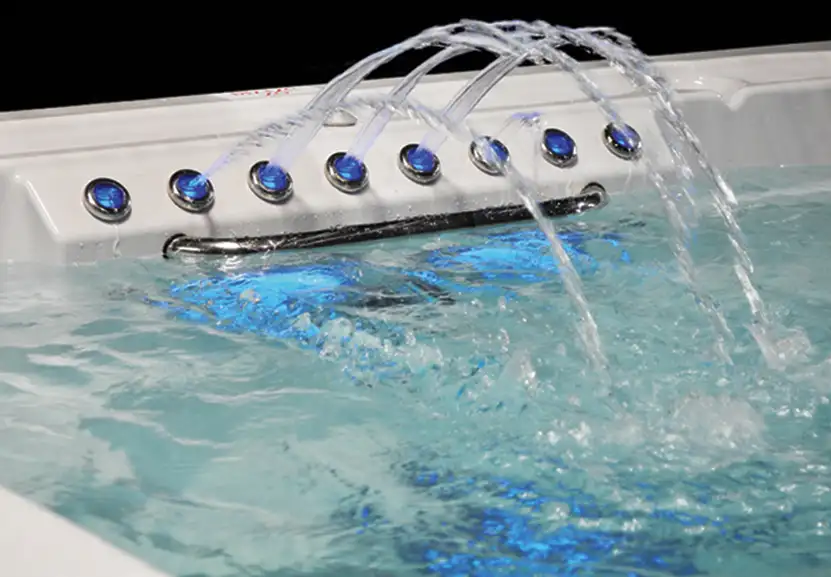 FDA-Compliant and NSF Approved Filter
The MicroClean filter cartridge is the first FDA-complaint and NSF-certified filter within the hot tub industry. Exclusively manufactured by Filter Specialists Inc. for Sundance Spas.

TRIPLE-LAYER FILTER MATERIAL (MICROCLEAN PLUS)
Multi-fiber outer layer is coated with acrylic resin for strength; retains large particles
Polypropylene middle layer provides microscopic filtration
Polyester inner layer provides additional filtering

MICROCLEAN PLUS FILTRATION (880 SERIES)
Most robust and efficient water filtration available
Advanced, triple-layer pleated material filters water more thoroughly in less time
Traps 99% of all particles, large and small
Filters thoroughly from both ends
Removes oils and lotions from the water
Lasts longer; lower replacement costs
No leaching of chemicals from pure fiber filter

MICROCLEAN FILTRATION (780 SERIES)
Filters thoroughly from two directions through pleated and microfiber materials
Microfiber cartridge for ultra-fine filtration
Pleated cartridge captures larger particles
DYNAMIC FLOW CIRCULATION PUMP (880 SERIES)
12-hour filtration effectively moves up to 50,000 gallons of water per day, at roughly same cost as other systems
Pump works with the MicroClean and CLEARRAY™ Water Purification System to optimize filtration
Water is drawn over the Slipstream™ skimmer to remove impurities and debris

MICROCLEAN ULTRA FILTRATION (880 SERIES)
The 2 piece interlocking system has an advanced dual stage filtration that is the ultimate in hot tub water treatment.
The outer filter is washable and acts as the first stage of filtration that traps larger particles
Made from 100% meltblown polypropylene; these variable density filters are compatible with a wide range of chemicals
Variable density construction uses the entire depth of the filter to trap sediment and debris and results in higher dirt holding capacity