Energy Efficient Hot Tubs
Conserve Heat And Keep Water Clean For More Efficient Operation
Sundance manufactures high-performance, energy efficient hot tubs that are engineered to run efficiently for years. We build in systems and components that maintain thermal energy. They also keep the water clean longer. Some hot tub manufacturers place insulation along the floors while others place insulation inside the cabinets. These hot tubs are called "partially insulated." As described above, Sundance Spas are full-foam insulated (foam along the shell, the floor, and the cabinet), making them among the most energy efficient hot tubs on the market!
Energy efficient spas start with the superior heat retention from our proprietary Rigid Bond™ shell construction. Its benefits are enhanced by the polyurethane foam insulation that surrounds the shell and fills the spa cabinet. A thick, insulating spa cover with a 1.5 pound-density foam core adds to the heat retention properties.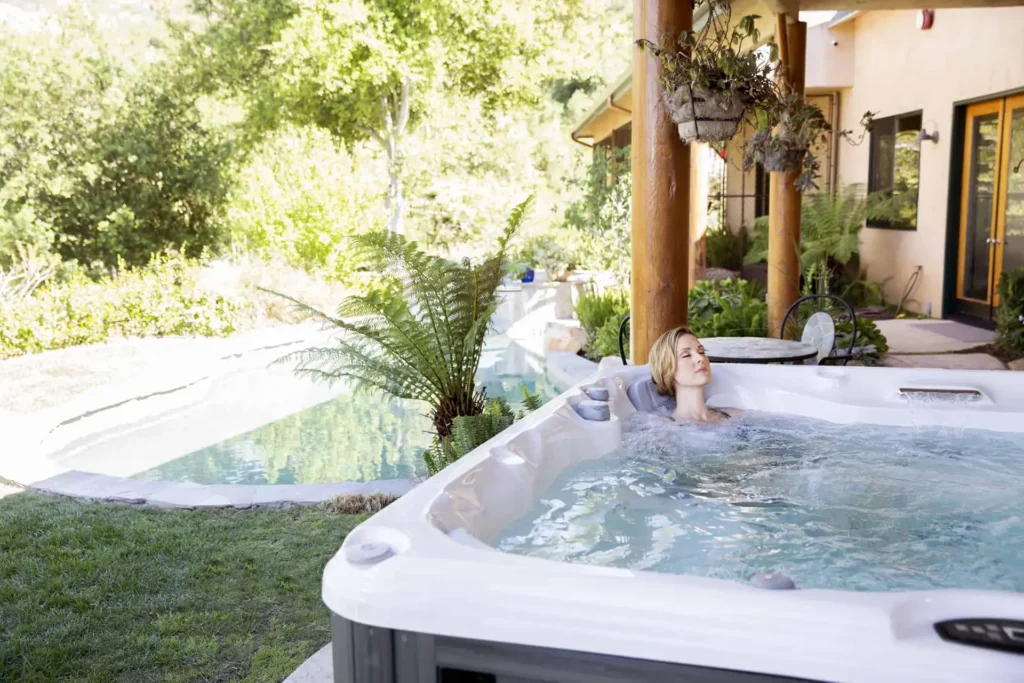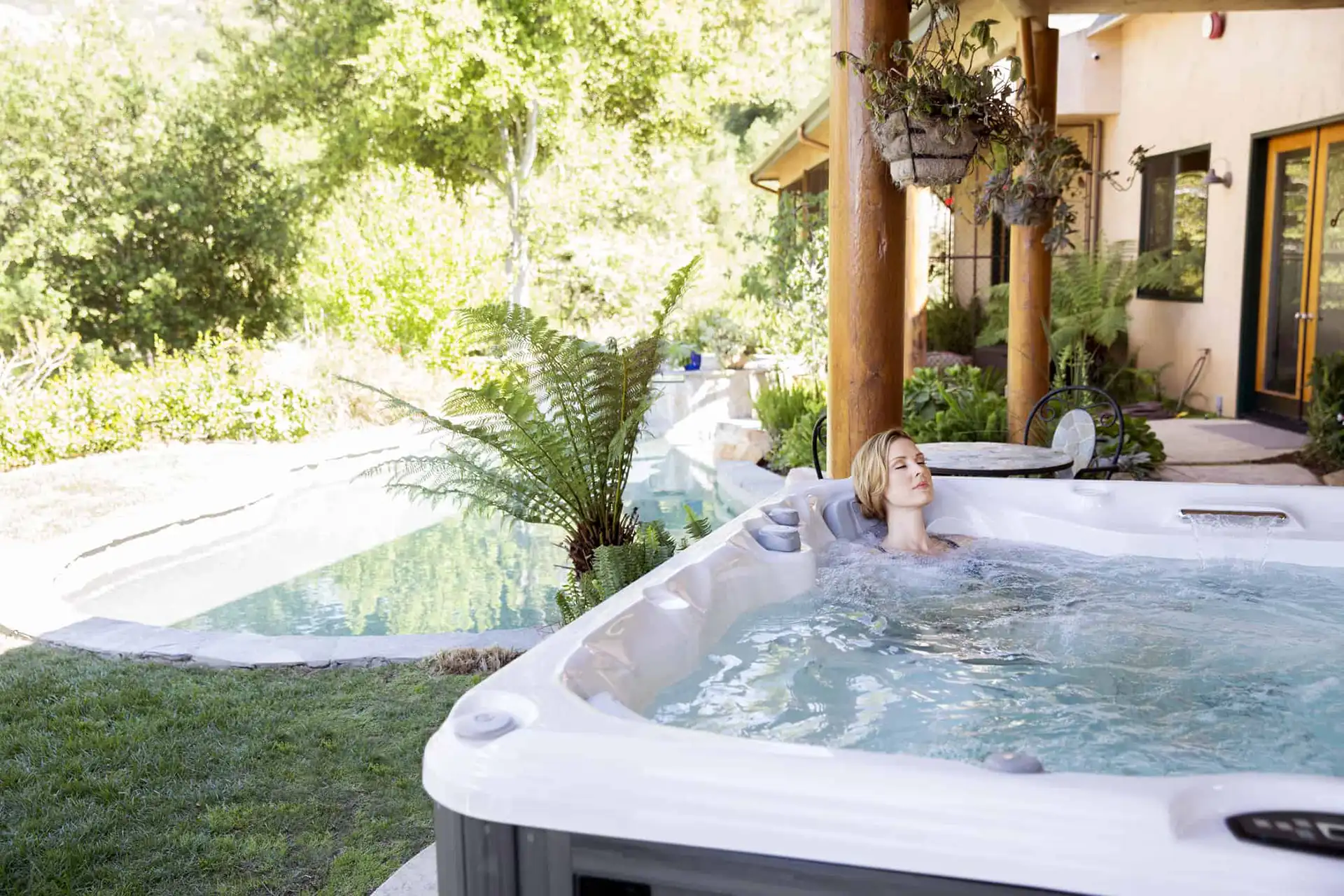 A titanium coil heater in 880™ Series spas transfers 100% of heat it produces directly into the water. The heater itself is so robust, that it comes with an unconditional five-year warranty.
The Sundance® Difference means you will be satisfied with your hot tub in every way. We care about making your life easier with low maintenance, energy efficient spas. And we keep making advances in design and technology that are the envy of other spa companies. With so many models to choose from, we're confident that we have the perfect energy efficient hot tub for you!

SUNSTRONG COVER
Premium design featuring authentic Sunbrella™ material that lasts twice as long as traditional vinyl. Inner core features 2lb. foam density and heat seal gasket to provide energy saving by minimizing heat and moisture loss. Available for the following models: Optima, Cameo, Hamilton, Chelsee, Hartford, Victoria and Constance.

I-TOUCH CONTROLS
Programmable for maximum energy efficiency, the easy-to-use iTouch control panels on 880 and 780 Series spas allow for precise programming of filtration cycles, temperature control to within half a degree, and Integrated Aqua-Terrace and Foot-well Lighting controls. Energy efficient microprocessors continuously check all spa functions. The lock-out function allows for the protection of personalized settings. On 880 Series models, the controls maintain your settings in the event of a power outage.

RIGID BOND™ CONSTRUCTION AND FULL-FOAM INSULATION FOR ENERGY EFFICIENT HOT TUBS
3-layer Rigid Bond construction adds superior strength and thermal retention qualities. Only Sundance Spas layers the shell with vinylester, polyester resins and a proprietary laminate.Full-foam insulation with two different types of foam completely fills the compartment between the shell and the skirt. Rigid Bond and foam insulation conserve energy and reduce heating costs by maintaining water temperatures longer.

ECOWRAP™ FOR THE 880 SERIES SPAS
This factory installed option is ideal for cold weather climates. The insulation blanket achieves up to 25% energy usage reduction, protects from moisture and mold, and reduces operating noise.

INSULATING COVER
The marine-grade vinyl covers features high-density,1.5 lb foam for maximum heat retention. The cover locks into place, forming a protective seal to keep heat in and weather out. The cover not only provides for an energy efficient spa, it also helps the spa water stay clean longer, reducing maintenance costs.

TITANIUM COIL HEATER
The heater on selected models features a titanium coil that directly heats the water, significantly increasing thermal efficiency and cost savings. 100% of the heat produced is transferred immediately to the spa water. The titanium coil protects the heater from corrosion or failure, and carries an unconditional 5-year warranty.

LED LIGHTING
Consumes up to 7.5% of the energy used by an equivalent incandescent lighting system. Put another way, if you ran your LED lighting system everyday for three hours, you would only spend approximately 50 cents per year, based on electricity at 10 cents per kwh.

FULL-FOAM INSULATION
Overall foam conserves heat and supports spa plumbing. High-density, heat-resistant foam surrounds the equipment bay; lighter foam insulates elsewhere for an energy efficient hot tub.

JET PUMPS
Efficient plumbing, quality jets, and optimum flow control are more important than horsepower. A lower horsepower pump in an efficient spa will produce just as much jet power as a higher horsepower pump in an inefficient spa. Many other manufacturers use oversized, high horsepower pumps. Sundance Spas has built a cost effective system, using efficient pumps to deliver the perfect hydrotherapeutic experience.
A Quality Hydrotherapy Experience With Unmatched Overall Efficiency*
Compare the following models' energy costs based on 60° ambient temperature and 101° water temperature.
*Tested in Sundance Spas' certified energy chamber, CEC certified and routinely calibrated by an independent third party. Software continuously monitors power consumption. Spa is in standby operation mode with cover closed, 60° ambient outdoor temperature and 101° water temperature. Spas are not intended nor designed to be used in a commercial or public application. The spa buyer shall determine whether there are any code restrictions on the use or installation of spas since local code requirements vary from one locality to another.