Why Do you Need Stress Relief
According to the National Institute of Health, stress is a normal part of life that can result from any situation or thought that produces feelings of frustration, anger, or anxiety. Whether you are nervous about speaking in public, or impatient because you're stuck in traffic, you usually recognize the uncomfortable symptoms of stress. Stress can also be helpful, if it encourages you to meet a deadline or change a situation that has created frustration in your life. But on a daily basis, stress can take a toll by causing unnecessary muscles tension, headaches, other types of pain, and irritability! And long-term stress can increase the risk of diseases and may lead to other problems.
Hot Tub Stress Relief: Finding ways to de-stress is important to achieving optimal health and well-being. For centuries, people have sought warm water therapies for relaxation, and healing. Today, we know that effective hydrotherapy can produce positive physical and mental changes. A few moments in a hot tub, on a regular basis, can help relieve the symptoms of stress by promoting relaxation, decreasing muscle tension, and helping you get a good night's sleep. Contact our store to learn about the features that makes hydrotherapy so effective.
HOW HYDROTHERAPY CAN HELP COUNTER THE EFFECTS OF STRESS
Hydrotherapy can be an effective way to reduce the effects of stress on a consistent, day-to-day basis. Spa stress relief starts simply: a warm water massage in a hot tub makes you feel good! What better reward after a hard day than sinking into your hot tub and letting the combination of heat, buoyancy, and massage, or hydrotherapy, help you relax? Hydrotherapy also has the power to bring about positive physical changes that can alleviate stress.
Effective hydrotherapy increases blood circulation, which can help relieve tension headaches caused by stress.
Massaging jets, such as our patented Fluidix Nex jets, can directly soothe tightness in stress-prone areas, like the neck and shoulders.
Warm, massaging water helps stimulate the body's natural production of endorphins, which reduce feelings of pain and anxiety.
Just owning a hot tub gives you a reason to take time out of your busy schedule on a regular basis, relieve stress, and reconnect with those close to you. A hot tub can be a great place to discuss the day's events in a calming environment, free from distractions. With extras like stereos and mood-enhancing aromatherapy available, hot tubs gives you more ways to relax and retreat from daily stress.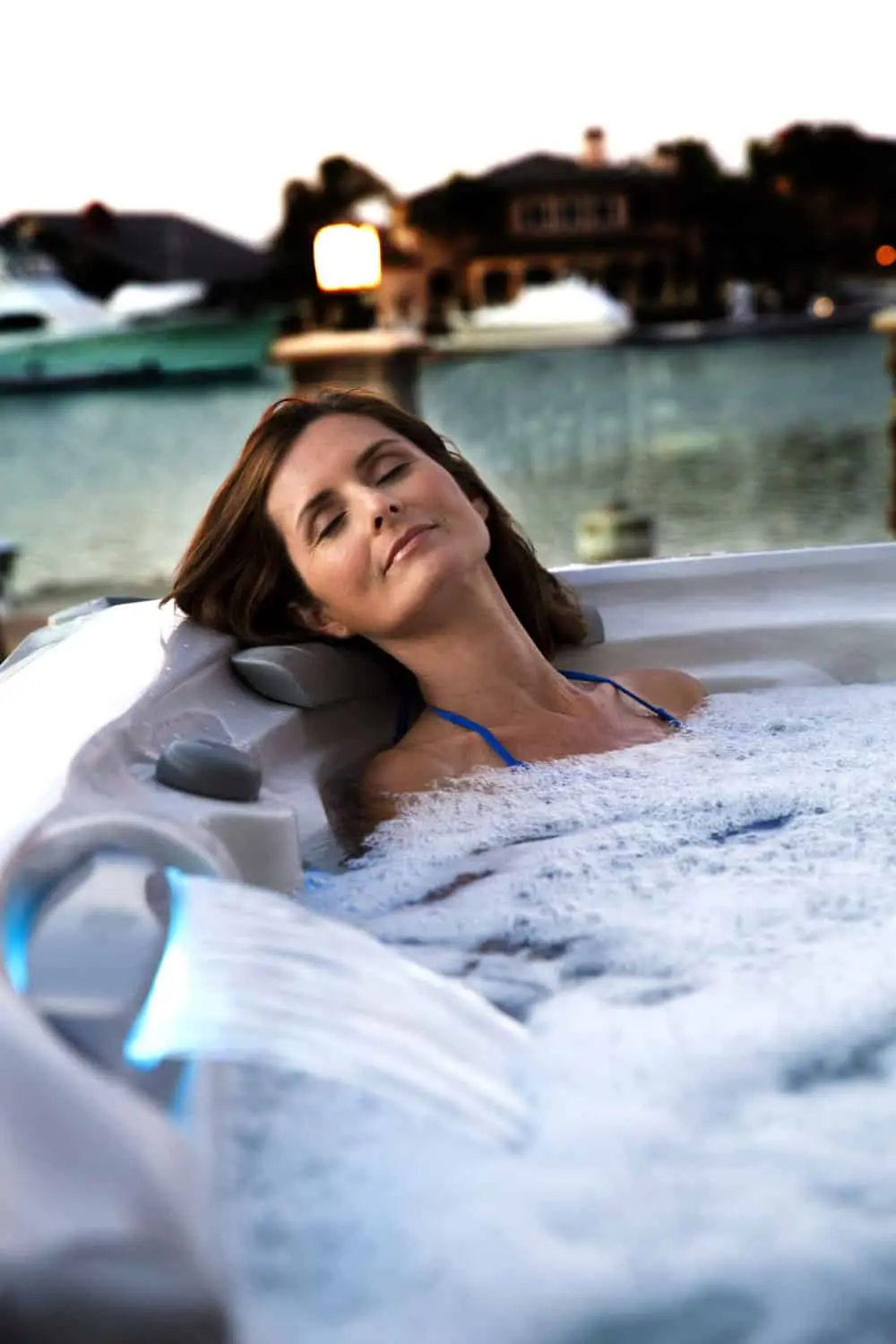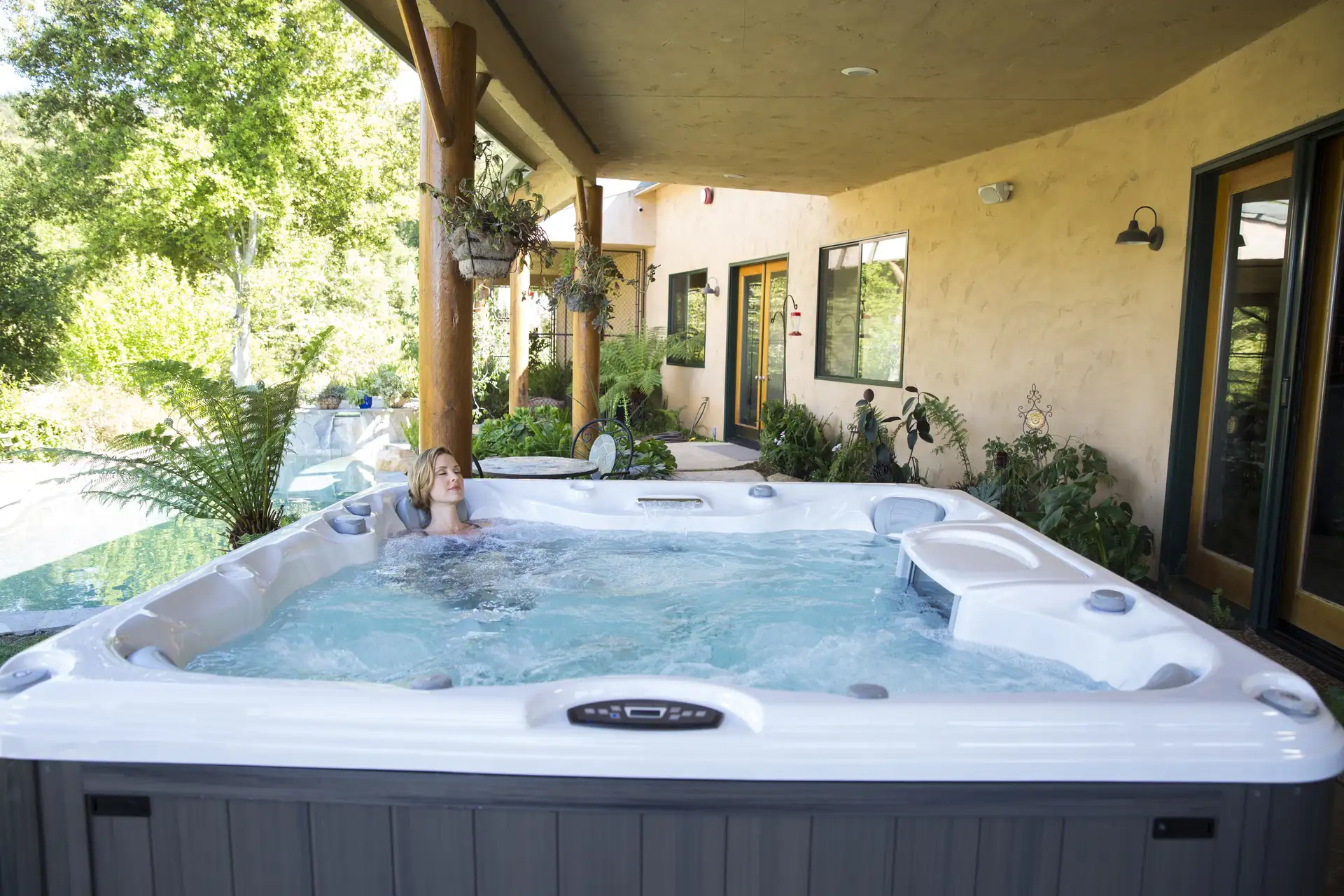 SLEEP PROBLEMS KEEPING YOU AWAKE?
According to the National Institutes of Health, approximately 70 million people in the United States are affected by sleep problems. A poll released by the National Sleep Foundation (NSF) found that 43% of women surveyed say that daytime sleepiness interferes with their daily activities. One way to ease into a deep, restful sleep? The Better Sleep Council recommends establishing a relaxing bedtime routine, such as soaking in hot water to help maintain a healthy sleep cycle. The gently massaging hot water is a natural place to establish a deeply relaxing, nighttime routine.
RELAXING IN A HOT TUB CAN PROMOTE A GOOD NIGHT'S SLEEP
Sleep Benefits of Hot Tubs: Whether it's difficulty falling asleep or episodes of waking up and being unable to easily go back to sleep during the night, you probably experience a less-than-good night's sleep from time to time. When lack of sleep becomes a chronic problem, it can start to affect you in many ways.
How important is a restful night's sleep? Studies show that:
Sleep helps the brain commit new information to memory.
Chronic sleep loss affects the way the body processes and stores carbohydrates, which may lead to weight gain.
Poor sleep can contribute to accidents while driving.
Lack of sleep can make you irritable, and make it hard to concentrate.
Serious sleep disorders have been linked to hypertension.
Eventually, chronic sleep loss can diminish the disease-fighting capabilities of the immune system.
Learning to relax in preparation for a good night's sleep can help improve the chances of falling, and staying asleep. Hydrotherapy helps ease tension and promote relaxation. Heat loosens constricted blood flow. Buoyancy reduces body weight by up to 90%, relieving pressure on joints and muscles. And massage helps to work out stiffness and muscle soreness. Hydrotherapy also stimulates the production of endorphins, which naturally block pain and stress signals from reaching the brain. Their effects can linger after your spa session has ended, too, so you feel more content, and ready to sleep.
Jets provide many massage variations that can help you release feelings of stress. Patented, adjustable, Fluidix Nex jets, for example, pinpoint the neck muscles, where many people experience tension. You can opt for high- or low-level massaging action with these, and many other jets. You may also want to try using aromatherapy fragrances, in select spas, to help induce a restful state. Certain fragrances, such as Summer Rain from the SunScents aromatherapy collection, have qualities that calm the mind and enhance relaxation.